I can see the finish line from here. The shawls are almost done. The pattern is done and up and running,too.
If you read the previous post, you will note the yarns are acting differently in terms of length. Well, that drama continues. I made the taupe shawl and darned if that thing didn't come in shorter than the others. It's still longer than the 60 inches – it's 66 – but it fell short of the 70 inches of the others. Luckily, I needed a shorter one and that one can be it.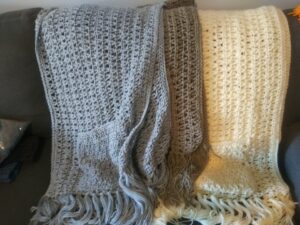 I am currently working the dark gray one and I can tell from the thickness of the color, it will need two skeins. The gray one here used two.. The medium gray is going to go full on two skeins. I will have some left over but I am predicting this is the yarn eater of the bunch. Once that one is complete, the black one is the last one and then I can call my friends over and they can see new place and pick up their Christmas presents, too. That's efficiency.
I have a order for an infinity scarf that makes things worse. It's an original and I thought I had the pattern. Nope. So, I'm getting a pattern and an order and I want to get at them both. So, the shawls are beginning to look a little like the step child that ain't going to the ball. Except we know how that story goes: not only does she go to the ball but she walks away with the guy and a crown. It will all be good in the end.