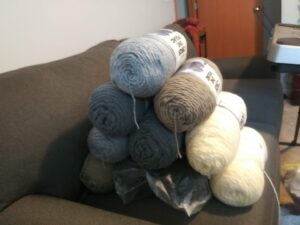 Riddle me this, Batman. I am using Caron yarn to make all the pocket shawls. Caron Big Cakes were used for the pattern prototype. You can read about it here.
For the ones that are in the order, I am using Caron One Pound. It was the one brand that had all the colors I wanted available and they are plenty big skeins. In the two previous shawls, I needed two skeins. So off to JoAnn I went and got the ten skeins I would need. Pretty, eh?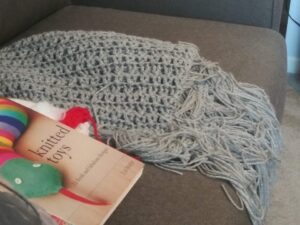 I think so, too. I figured I would just leave them there and pull them as I needed them. I started with the light gray. It is even more gorgeous in person. Here's the thing: it took less than one skein – including all that fringe.
What?
I know, right? I can't explain it. And it's even longer than the 60 inches I planned on.The yarn was plied differently than I was used to but it was still worsted but I had 71g left over.
OK, so I started the next one in the cream.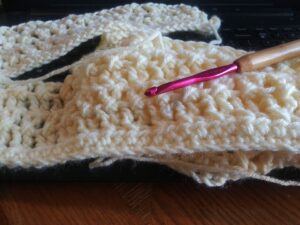 I can already see this is more lush than the gray. I don't have a problem with it – it's going to be every bit as wonderful as the gray but I'm betting it will take more than the one skein to pull it off. But don't you love how cushy it looks? Riddle me this, too: Just like the gray one, it is longer than when I did the original measurement and the sides aren't wonky. It just grows. Knit math. I tell you. It adds and subtracts at will.
The pattern for this is all done and will soon make it's appearance and you can experience all the Knitsville voodoo for yourself.