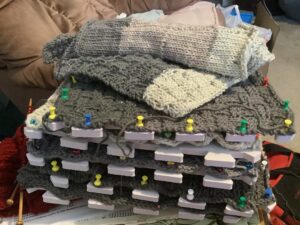 Would it be wrong to ask for a wedding delay? Some of you may remember this post. It was about making an afghan for Emily's wedding and you can see the squares there. Would you like to see the progress? I saw Emily yesterday and won't see her again until after she's hitched. This obviously isn't ready. Now she isn't getting married for another month so I could technically get it to her before the day. She know it's coming and she's perfectly fine with it coming later.
But I'm thinking she should move the date back a week or so just to make sure. I mean, really, what's seven…or ten days. They've been together for a while. Seriously, is there a rush?
I know it may seem a bit unusual for someone not even invited to call for a wedding delay but life should be filed with new things. I am guessing, though, this would not have gone over well had I asked. Em is already stressed enough. So I shall press on with the work and it will get there when it gets there. Recall, the inspiration for the blanket is this pattern from Yarnspirations.
Five of twenty will come from this pattern, the other five will come from another book and the last ten will be cream in color and be crocheted using my favorite stitch combo of sc and hdc. We'll see if I can make it.