Lucas is flying the coop. (That's him holding the afghan.) He's actually flown already. He is away at college and enjoying himself; if his texts are any indication.
Sorry the photo is a little blurry, I was multitasking – and maybe tearing up a little bit as that guy who I've seen as a little person is now on his way to college.
I made him that afghan in his school colors. Here's a better look at it. I used the Mocha Ripple Afghan from Toni Lipsey as my inspo. I like how it turned out. Because I am who I am, I started it more than once because that's how I roll. Ended up being made over a two week period.
Making afghans is my legacy go to. I make them for weddings, graduations and other occasions. I ma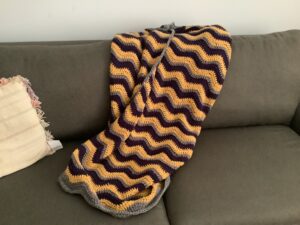 de one for each of my brothers and sisters. And now this one for a guy who calls me Second Mom and texts me from school. (After making sure I wouldn't annoy him with too many texts.)
Flying the coop is something we all must do. But it's a good thing to know the coop is still there. Making legacy pieces is a connective thing. It connects people to people and people to places. Lucas has a great set of parents – whom he obviously loves – and he has a loving church who prays and hopes nothing but the best for him. And he has a blanket from Second Mom. He can value it or not; it's his. He can give it to a girl if he wants. What's important is that he knows it was made just for him. It connects him; not just to me but to an act of love.
Those of us in crafting – particularly knitting and crochet – know this to be a love craft. Of course, we make things to keep for ourselves but giving them away is a part of every knitter and crocheter I know. It is an act of love to give that time to someone. It is also why so many of us are disappointed if it's not received the way we think it should be. I tend to not be of that mind but that's another post.
For right now, the kid is off the college and having a good time. With a blanket. That's a pretty good start.