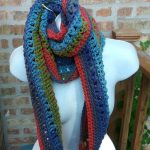 This crochet thing has gotten a rebirth. It was helped along by the pandemic and also the Olympics because knitting and crochet were in the hands of Olympians.
Oddly, one thing that has caught fashion fire is the granny square, I suppose it has moved from being old fashioned to be retro or what I call retro fresh. Even in my shop, a hat that hasn't sold much is selling again. It is a hat with a granny square vibe. Another hat, that is granny squares, has also sold after a long time being dormant.
I'm not knocking the trend; I'm glad I don't have to chase it. There are already granny square items in the shop. I wouldn't have placed them there to keep up. Trends are fickle things; chase them and to run to hide; leaving behing something useless that everyone wanted just a few hours before.
My respect for crcohet continues to grow. I find I am happy when someone orders something crocheted instead of knit. Usually,, that item will take less time to make and so it will be out the door that much faster. I can relax just a little more with crochet because there's just the hook. Though I cannot watch a screen as easily as I can with knitting.
Don't get me wrong, knitting is still my preference. Crochet compliments it nicely and is carving out its own space in my psyche. Nothing wrong with that. It's kinda like a hobby that I don't pursue but glad I have it. If I could just learn how to do it and watch a screen.