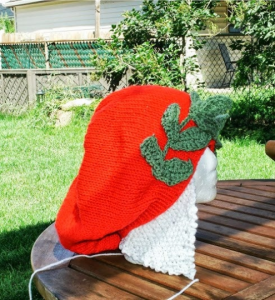 The things I do.
I was at StitchCraft – the knitting group in Knitsville – and I was looking at what everyone was making and it hit me that I knit for my shop while everyone else knits for themselves or as gifts for someone else.
Now, I love that I can make a living knitting and designing. That's a great gig. But when I see the sweaters, shrugs and other
pieces of clothing that were being made around me, I couldn't help but think I was perhaps a little…well…boring with my knitting. And then I remembered I designed and knit this. It came to me as I was uploading a pattern to my Ravelry shop. It occured to me I haven't written this pattern or the pattern for a infinity scarf.
Yes, this is the hat worn by Dante Alighieri of Dante's Inferno fame. This was a custom request and the client offered to pay me $20 more if I would send him photos of the hat in progress.
OK. So, I'm going to cross boring off the list. The things I do can sometimes be routine and there is a business aspect to it because it is a business. But it isn't boring. All that means is I need to branch out into some other territories and that is already happening. Over the past few days, I've been uploading a pattern a day to Ravelry. I'm up to two dozen there are four more I have to do of existing patterns and then the three that are part of the latest collection.
I will have to write this pattern and the one for the scarf. I went looking through my pattern notes and didn't see any for either or them. Really strange but I will get that done. I have a collection coming that will have four or five patterns in it. There's no reason two of them can't be this hat and the cowl. I sold the dante hat twice and it was not boring to make. I will have to make it again for the pattern. I definitely will not be bored.