It's the circle of life that leads us on….yeah, nice song, but that isn't the circle that's on my mind. The one that's on my mind is the circle of life that is our wedding bands. We had new ones made for our 25th anniversary. These are they: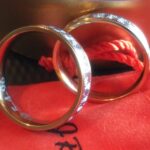 We are thinking of doing a Zoom vow renewal. We could do it and then get them resized at our leisure.
Something to think about as I think about how to do a Zoom vow renewal.
On mainstreet in Knitsville, there's plenty of work going on from the restart of a crochet afghan using the colors of the rainbow plus black, to the creation of scarf and hat combos, it looks like yarn has exploded around the studio. This is not going to get better as I just ordered 3 sets of Zing double points and 2 of the Lion Brand santa bags which has 9 skeins each, an order from Premier that has 15 balls and yet another from Lion Brand that has 13 skeins – all told about $170. I spent that from the money I got from being an election judge. I still have some left over. Money and yarn.
I know I am going on a yarn diet. There's more than enough to get things done. I am using the older yarn in the stash as well as some of the new yarns. I broke out the Yarn Bee Sugarwheel and made a scarf/hat combo. It turned out well. Did mention I also ordered a new wig for Naomi? She needs some hair as an option. I have five packages coming. It's gonna be like Christmas.