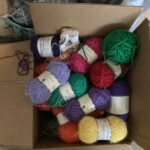 I am about to have a new kind of fun. This arrived in the mail. Not everything in the box arrived in the box. Some of the yarn I threw in there so everything I needed was in the same box. But the sparkly nylon all arrived in the box.
It's Herrschners Suds and Scrub yarn. I got it because a friend said she was down to her last nylon scrubby and wanted to know if I made them. Well, I knew I could make them even if I hadn't up to then. So, being me, I bought 20 balls of the stuff.
I made four different kinds of scrubbies: a towel made of cotton, a scrubby made with cotton and the nylon, a super scrubby made from Yarn Bee Scrubology (more on that later) and the scrubby made from the Suds and Scrub. That's the one she used and the one she liked and the one she was telling folks they should get because it's so good. She has built up an expectation for the product better than if I paid for her to do it. This is straight out of Marketing the Jesus Way. (More on that later, too.)
The funny thing is, I haven't tried these for myself. I have dirty dishes and I have a piece of nylon that's done more of its share of work. I don't know why I just don't take what I whipped up and place them on the sink and use them. There would be no more thorough person than Mr. Honey. That could be the problem.