I am off on a new adventure. A new crochet adventure. A new crochet garment adventure. I blame my sisters because it is their fault. It was my fault for showing it to them so I own up to my part.
This is on my hook: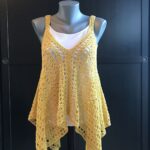 It is the Kanata Kerchief Tank – free on Ravelry. I had told them I might make this instead of making the halter top.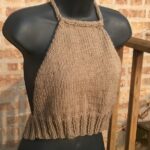 My elder sister wanted to know if I would make both. I said I didn't think so. I didn't want to get into garments that deep so I would probably make the halter since I sold almost every one I made.
She then wanted to know why I would discriminate against 'hefty girls' when the tank would accommodate more diverse body styles. May I note that neither my elder or eldest sisters would wear either of these. Not the one who isn't hefty and not the one that thinks she is. I wouldn't wear them either. I think they're as cute as can be and it is an enjoyable knit and crochet, but I don't have the body for them. Looking at it, I could probably pull off the tank but I'm a little short in the torso and we must recognize our limitations.
Regardless, I went out and purchased some Caron Skinny Cakes because the tank is a yarn eater. I'm on the second of four.
Though I purchased 3 weight yarn, I am using the Caron One Pound that feels like someone was supposed to make one pound and made simply soft but without that yucky simply soft feel. I think it's a great fiber to use. It feels great and drapes well. I also have an order for a lace slouchy I have to get out.
That's also a new adventure – getting orders year round. I like it.