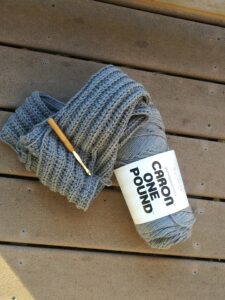 Doing good around Christmas isn't that hard a lift for most folk – that's a guess on my part. I get there by thinking there's honor among thieves so when they steal something, they're trying to steal something really nice for someone they love.
At the best of times, it's probably not a good idea to compare the deeds things with any crafter. A crafter sniffs out the holiday season sometime in May. Plans are made and executed.
During the holidays, there is always a call for donations of items crafters create. Among them are hats, scarves and gloves for children in foster homes to adults in assisted living centers. Yarn sales start at the beginning of fall and great deals can be had all the way to Valentine's Day. But for some especially crafty people, they get more than just fiber when they fill up at the local craft or yarn store.
They get plastic bags. Those bags are turned into plarn – plastic yarn. Plarn gets turned into sleeping mats. The West Orange News has such a story about those mats. Mats are made from the plastic bags gotten from grocery stores, craft shops and just about any place that sells anything. They save the bags from the landfills and the oceans and create a useful item to be used by someone who needs it. This project has been around for years. If you want to see a video on how to make sleeping mats, check out Knitsville U.
The need for these items don't begin and end with Christmas. This is a idea for a year long project a craft group can handle. StitchCraft doesn't currently do it but there is no reason not to bring it up as something we can do several times a year.