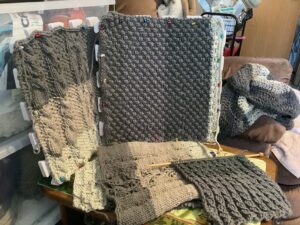 The Borg Afghan. That's what this afghan is becoming. It is part of the Borg collective. I feel I should name it Loctus, Jr or something.
All of a sudden it is September and I have to get a move on with finishing this afghan. Not only do I want this wedding present to be given before the wedding, I also want to offer a custom made afghan in the shop so it needs to be done for that.
There are 20 squares in this afghan and I am just on square 5. 5 of 20. Borg. And I feel an act of science fiction is needed to get this thing across the finish line on time.
This afghan is a mixture of three sources: my own mind, and two sampler afghan patterns: The Caron Sampler afghan and Leisure Arts Sampler Afghans books. See? A collective right there. Melded together to create something new. I am also frogging a WIP afghan to make these squares so assimilation is going on all over the place. There should be a star ship for me to captain.
I have been resisting the urge to buy more yarn. I really don't need it. If I needed it, there would be no hesitation or pouring over what to buy. I would just go get it. This is a clue to me that it is an emotional purchase. I can probably get the am rush by looking through the domesticated yarn in the closet. There would be some pleasant surprises in there. I am taking this as a sign of maturity. Let me have my moment.