So, I think things are returning to normal. I am working on the EDS – and I am happy to report the back is done and the front is about to hit the needles. How much you want to bet it goes faster? I am working on item 9/10 of the September collection..egads, that's going to take some knitting to catch up with that. I'm not counting on it.
But I am, in the interest of being in Knitsville, going to show you the hat patterns I was working on.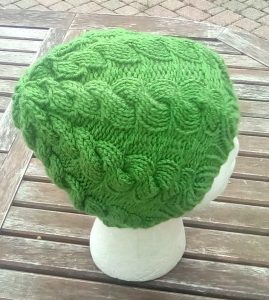 The first is the Cable All Around Beanie. It's a little retro fresh. Did it in Ice Yarns Saver in green.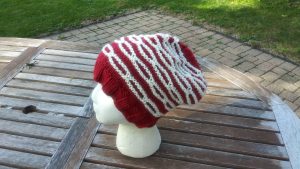 Then there's the DNA Beanie. Done in Ice Yarns Saver in Cream and Caron One Pound in Claret. Both patterns are written up and need to be formatted. There's another pattern I did before this when I was on track and I have one more to do. I know the pattern. I just have to figure out of I am going to use three different yarns or use a variegated or self striping yarn. I still haven't used the Ice Glitz and it could provide an interesting variation. Don't know what I'm going to do. I have to knit a prayer shawl so I have some time to think about it. Also have a hat order. That should give me enough time to think about it. If I go with three colors, do I use three distinct colors or variations of one?
See, crazy thinking. Like I said, returning to normal.