I've been missing things. Some little things, like a good thunderstorm that doesn't knock over trees and powerlines and leaves the air smelling freshly washed. Some more important things like a church gathering where you can greet each other close up. Civility and not so random kindness. And prayer shawls like this one.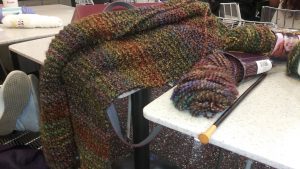 I haven't made many prayer shawls this year and no one has inquired about them this season. I haven't found a substitute color that is as rich in autumn tones as this one and that may have something to do with it.
Autumn as a colorway is very popular which may explain why this hat is selling and being favored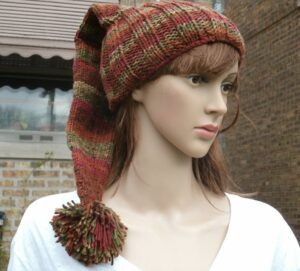 I've made three of these thing week. I just received two orders for different stocking caps. Stocking caps seem to be a big thing. I created a section for them in the shop.
But the most fun thing that has happened since we were last together was the custom order for a Lenny Kravitz scarf. You know what I'm talking about.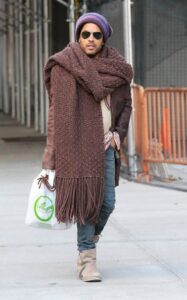 Someone ordered a scarf like this one. I had to create the texture stitch and they chose a charcoal gray wool blend. I've been working on it a couple of weeks and it's due to them in five days.
I am already afraid because the knit math has started. No matter how much I knit, it doesn't seem to get past four feet and this thing has to be somewhere between eight and nine feet long. I originally got seven balls of yarn but I don't think it will be enough. So I picked up four more yesterday. Certainly that should appease the knit math gods and they will let go of the inches and I can get on with it. I've already decided to do a crochet version as well.
There's no doubt this is a stash buster. Among the missing things you'll have is yarn. Pictures to follow.