They should have known better. They/know I cannot be trusted on my own. We had our first in person knit group a few days ago – though everyone was crocheting. Afterward, on my way home, I bought this: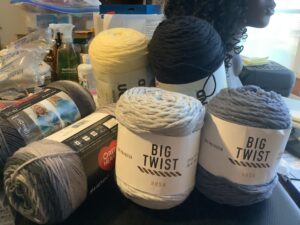 They should have known better than to leave me to my own devices without as much as a 'now go straight home and don't stop for yarn.'
I have to say the Big Twist Hush is a surprise. It is squishy tee shirt soft. 100% polyester. I wanted to get some more if only just to squeeze it. I will eventually get to hitting with it. The only draw back I see is that it doesn't come in a great variety of colors. I can see a blanket coming from it. The One Pound skeins will be used for afghans. I have some in mind. the same for the Ombré. It looked so pretty in the store. There's an afghan there, too. Not just those two skeins but using then with other yarns.
I didn't buy more because I have a feeling there might be some more in the domesticated yarn. Considering there was a lot of yarn calling my name, I cam out better than I had any right to expect. But seriously, Imma have to get some stuff off the needles.