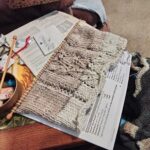 Somebody's getting married! Not me. I'm already married. One of my doctors. Emily takes my INR every month and her finger's been itching for that engagement and wedding ring for a little bit now. She got it last year and the wedding is a mere 4 months away. I, in an unusal turn, have already started knitting her wedding afghan.
It's what I do for weddings. I make the couple an afghan. And in a weird twist, I make it out of yarn I already have on hand. Now, for this one, I admit I went out and purchased three different tones of gray because Emily likes gray. But when I got them home, I pulled out some Caron Big Cake that I already have and settled down to begin the work.
I had in mind I wanted to do an afghan with squares instead of doing it all in one piece. I went online to find a pattern (not to follow cuz I write patterns but I don't follow them atleast not stitch for stitch. I wanted to affirm the image I had in my mind. I settled on this one from Yarnspirations.
It was so pretty and just what I had in mind. I printed it out with the idea that although I knew I wasn't going to use all the squares they had or at least not do them the way they did them, I might knit up at least one of the squares. And I did!! Not the one you see here. That's from another book. What I ended up deciding is the knit the squares from the book and the website. I am using the yarn from that little sliver of the afghan you can see off to the right. It was a wip a bit back and it was never going to be made so the yarn is now going into this afghan.
I don't think there's enough of the frogged afghan to make the 20 squares needed for the new one. I have some cream yarn sitting in the stash that can help balance stuff out and brighten it up. It should be beautiful. I am enjoying working on it. I hope I am not tempting the knit goddesses by starting this so far ahead of time. They wouldn't do anything to curse a wedding. Would they?