I am going to confess to some crochet snobbery. I founded a knitting group that used to have more than 400 members.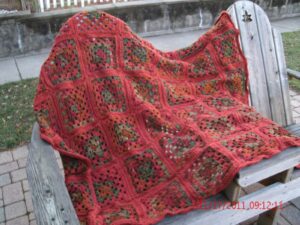 When i moved it off a paying site to Facebook, I culled the group down to about 40 -50 or so and of those, there is a small cadre of regulars. Here's the thing: hardly any of them knit. Yes, I have a knitting group where many of the members don't. Knit, that is.
A few of us do both. And our most accomplished knitter/crocheter prefers crochet over knit.
I do not. I still prefer knitting.
See this afghan? It's stunning. I love the colors; I love the look of it. The techique of putting it together is a great tool in my tool box. This is crochet. But in my mind, this is more of the exception of what crochet looks like more than the rule.
Granny Squares May be the Culprit
This afghan and the Kravitz scarf I make, along with a host of hats, all explode the myth of crochet being junky and boxy. This afghan has beautiful drape and the yarn color flows to paint a lovely tapestry. I did none of the color work. I am a firm believer in letting yarn do the work it was designed to do.
But I also know there are other granny squares that make me want to cringe. Mostly it has to do with color choices but it makes the work look dated – not vintage type dated – old and dated.
As I write this, I have a pattern for a granny square scarf in mind. I have pulled the yarn – Red Heart Super Saver Ombre in Green Apple – and I will be using the black handled Susan Bates 5.5mm hook. I imagine three rows of granny squares and some fringe. It will be boho but not vintage. It will be lovely; worked with join as you go.
I am working at getting over my crochet snobbery. It will take some work but it's worth doing. There is a great deal of beauty in crochet stitches (though an endless double crochet strains my artistic sensability.) I appreciate the artistry my club members display and I like what I create.
This will require an attitude adjustment. I think I'm ready to make it. Knitting will probably always be my first love – but there's enough to go around for crochet.