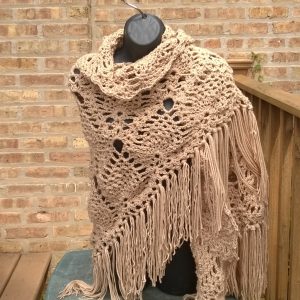 Life isn't fair. But that doesn't mean I can't be. Last post I shared a spot where you can learn how to knit. Well, here is a resource for crochet tutorials.
The resource is called Lovecrafts and it has some step by step instructions with photos to talk you through casting on (chaining), and the stitches: single, half double, double and treble. It even has one on front post double crochet. I checked out a couple of them and the only real problem I had is the instructor in the basic lesson said to hold the crochet hook like a pencil. That is not the only option. I will do that upon occasion but the overhand grip is natural for me. Just saying.
If you find yourself really getting into crochet swing, there is a tutorial on making a baby blanket with stars that will take just a few hours. (Though time in relative and subjective in the knit and crochet universe. One person's few hours is another person's week.)
In the craft groups I'm end, more crocheters say they want to learn to knit than knitters say they want to crochet. I find it's easier to teach a knitter how to crochet than the other way around. Knitters are used to at least two needles in the hand and can go up to five. Handling a single hook can be somewhat relaxing. For the crocheter, they have to learn how to use both hands – there isn't a free hand and it can be tricky.
But now, we have resources for both. So for those who are new – welcome to the craft. For those who are looking over the fence, welcome to the other side.