Our anniversary is coming? Know what I want? I'll tell you what I want. Nothing material.
Thanks to a nice end of the year and beginning of the year and the Covid relief aid, I want for nothing material. I have yarn in weights from 2-6 and I recently went on a splurge of hooks and needles – so I'm all good there. (I went crazy for Zing are hooks, double points and circulars.) Then I went a little crazy for Susan Bates Silverlume hooks with the black handle. Bummed I couldn't get the hook in J. It will come in stock again and I shall try and snare it.
I didn't forget that last post I talked about making a tank top and even showed you a square I was doing for it. I finished it.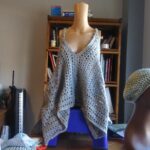 Turned out pretty nicely, too, if I say so myself. Turns out if is a pretty forgiving pattern as the four squares did not come out the same size. I'm looking forward to making it in the dk weight cotton yarn I bought just for that purpose.
There are also some headbands that have been made. But there will be a little bit of a delay as I have had 2 orders (4 sales) and I have to get them out. Two of my bamboo cable scarves – which I will tell you about. The story is so cute. And a repeat customer who likes the lace slouchy hat. She ordered it in two more colors.
How could I want for something? Life is really good right now. The headbands and the tanks will go in the shop – and some hats, too. No, I'll tell you what iI want. I want to express how grateful I am. For I am. Thank you God.