A funny thing happened on the way to the blog post: I realized I hadn't done a lot of knitting or crocheting the past few days. It wasn't because I was being lazy. I rearranged my schedule and front loaded the week with knit and crochet leaving the rest of the week doing all things that weren't knit and crochet. I did manage to do some samples, though.
Immi asked about me making a baby blanket for her great grandchild. Once I got myself off the floor: If Immi is old enough to have a great grandchild and Immi and I are around the same age…how many portraits of D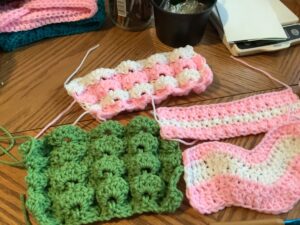 orian Gray do I need hanging in my attic? Where can I get an attic?
I am almost obsessed with the puff shell stitch. Almost. It looked so much better in the YouTube videos. Both videos I watched have a 7 stitch cluster. I'm thinking it would look much better as a 5 stitch. Besides being more of a yarn hog than crochet normally is – I'm unraveling the green swatch as we speak and there's so much yarn in that itty bitty sample. I have a green yarn river in front of me – it looks scary to me. Seriously, it's freaking me out just a little bit.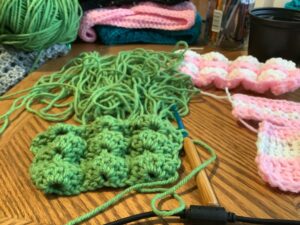 You might not be able to tell much difference between the 7 and 5 stitch but I like it a whole lot better. Look at the difference in how much yarn it uses. It's not like you didn't know I would change the recipe. Have you met me?