It's like the Discovery Channel – Knitsville Edition. Where the folks in Knitsville are putting away the winter clothing and pulling out the summer clothing only to discover some fall clothing no one remembered they had.
That is to say, I have found a number of hats and scarves hiding away in places and there will be some new additions to the shop when I can get around to it all. I've also cataloged the ready to ship items and they have new sku numbers and if they weren't in the shop before they are now.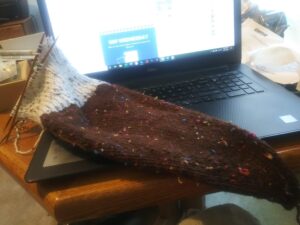 I am also working on some new stuff that is piled unto on one of the trunks. This stocking cap is about to come off the needles.All that's needed is a stretchy bind off and a pom-pom. It can be a little splitty but I can overlook it. There is a review of the yarn right here.
The move in continues. I still have boxes in the room. Some I've opened by couldn't completely empty until I find something else in another box.That is somehow a good thing. There will be more donations when they start up again. I am discovering yarn I forgot I had. It is kinda ironic I am looking forward to my biannual yarn buy. I know I am not likely to be using it soon no matter what I get so all I will be making is room.
I enjoy cooking in the kitchen. It will be better when the boxes are empty and off the counter. I've been ambitious in this new place. I did an eleven hour low and slow roast and I've baked some bread – really delicious. Gonna have some right after this. Loving two bathrooms and no stairs.
It's amazing the things that thrill us.