It's June and this is the month my knitted dreams go a little wild. I purchase yarn twice a year (except when I need it for a specific order.) My last yarn haul was December, and I was looking forward to Herrschners sale this year. I contacted them a few months ago and they said they hadn't decided what to do with their sale and they just put some stuff on clearance on their site. I've been eyeing the Ice Yarns, Paintbox and other sites looking over the fibers I want to have in my stash. I know very well most of what I buy will linger with the masses in the stash – the skeins I pulled last night have been there for 3 – 10 years. Their patience is being rewarded by sitting on my table and possibly finding their way to my needles.
The yarns I pulled?
Cascade Eco. The yarn continues but the color does not. And it is rare for me to have 100% wool but I have it and I think I have it in a brown color, too.
I Love This Yarn Sugarwheel in Gelatto's My Motto. Hobby Lobby as a company has not been a favorite lately but I have a ton of their yarn and it makes me happy so I am going to use it even though it is likely I won't be shopping there again. I imagine the Ice Yarn Cake Blues will sub just fine. That's also why there is no link to the yarn
Barcelona by Loops and Threads. Sold exclusively at Michaels. This is a very lush and soft acrylic yarn.
Caron Big Cakes in Blueberry Torte. This is one of my favorites because it's beautiful, soft and I get a lot of bang for the buck.
Finally, another Loops and Threads. This is Impeccable.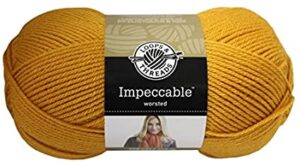 This is their basic worsted weight yarn. I like it in a pinch for wearables but I am not making a wearable with this one.
What am I making? I will tell you in My Knitted Dreams, part 2.