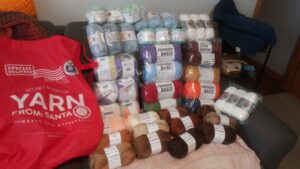 it is early July; even so, this is the beginning of the year of yarning dangerously.
For the past several years, I've watched countless YouTube videos of yarn unboxings. Boxes of yarn being opened from all sorts of companies and I've even done one or two myself. This has led me to believe that there are some people out there who think the only way to be a true knitter or crocheter is to constantly buy yarn – even if you have no idea of what to do with it.
I admit I started growing my stash before I ever saw one of those videos and they only made me realize I was not alone in my yarn obsession. Not only was I not alone, I was a freakin' amateur compared to some of those folks. Think I'm kidding? Here are the results of my yarn unboxing Google search.
I have nearly $5K worth of yarn in my stash. Some yarns have been there for ten years or more. During a recent move, I rediscovered yarns I forgot I had. Now mind you, I cannot yet honestly say, I have more than enough yarn. I still look at yarn websites. In fact, I look at them so much that if those email con artists said they saw me watching yarn sites instead of porn sites, they'd probably have my bitcoins by now.
You see the yarns in the photo? I'm not sure I've used any of it. There might be one or two but for the most part, It's back in the Santa bag and it's hanging out with the free range yarn. I've done yarn reviews on the yarns I've worked with this year; haven't even scratched the surface. I don't have the containers or the room to put the free range yarn somewhere. That's when it hit me I need to go on hiatus. My yarn studio in the condo is 30% bigger than my old one in the house. Granted, there is more in this studio than the other one but not more room for the yarn.
The old studio had two small desks and two bookcases. There wasn' even room to knit. The new studio has a full on table two bookscases (one that holds 10 bins of yarn) a dresser, a tv, a queen size sleeper sofa, a mini fridge and two side tables. There are also four huge bins of yarn and the free range yarn. The closet, which is twice as big as the old one, is filled with ten big bins and sixteen huge storage bags of yarn.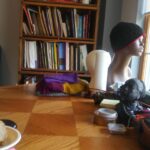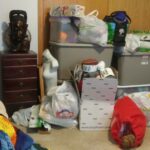 So, there is enough yarn – not too much because an order could come in and I may not have what I need. But there is enough.
I am betting there is enough to discover and learn about the yarn I already have. I am betting there will be some tempting times but I will resist them. Indeed, I already have.
Hang out with me for the next year and see what stash shopping uncovers for me. During this time, there will be some yarn organization, some planning time and knit and design time. Maybe I'll even save a little bit of money!