Yarn Reviews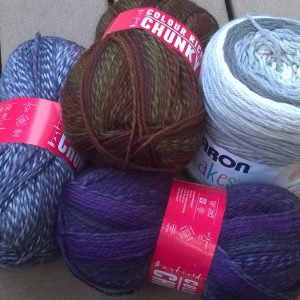 Whether it's acrylic that costs less than $5 a ball or the finest silk and camel yarn that cost portraits of several dead presidents, you should enjoy the yarn you work with. I admit to using mostly acrylic and for the longest time, I wouldn't step inside a yarn shop. But now, I will visit a LYS as well as JoAnn or Michael's. The big box stores are coming up with some really nice fibers and LYS are friendly places to meet, knit and chat and find a deal or two on yarns you may never otherwise use.
These yarn reviews are for the yarns I use in the products I make that end up in my shop or given to someone as a gift. From workhorse yarns to those that are one of a kind, if I used it, I'll let you know what I think of it.
Yarns:
The Taffy Pull Scarf made with Caron's Big Cakes – Tiramisu.
100% acrylic. 600 yards. Worsted weight (4) Suggested needle sizes: Knitting – 8, Crochet H/8

Gauge: 17 stitches 23 rows for 4 inches knitting.
13 stitches, 14 rows for single crochet
Machine wash and dry
Cost $9.99

Why is Caron Big Cakes available only through Michael's? I dunno. I also don't know why the Michael's nearest to me no longer stocks it. But the one closest to my church does and it is there that I can go and get this yumminess. First, the only way I pay full price is in an emergency. I always use a coupon and I really love it when I get a sale and a coupon good on sale prices.

I both knit and crochet with this yarn and love it for both. It's a soft yarn. Softer than the Caron One Pound. It also has some heft to do it so the textures really stand out. It works up plusher than it is so finished projects look more substantial. I love it when the yarn does some of the work. This yarn also chips in with the color changes. No color pooling. The color run is pretty long. The Taffy Pull scarf (which is a Red Heart pattern) is more than 250 stitches long with trebles stitches and there are runs that make the entire 85 inch length of the scarf. It didn't happen often and the color changes don't shock or look out of place when they happen.

I crochet with a Susan Bates hook or a bamboo hook and knit with Knit Picks Nickel plated interchangeable and bamboo DPNs. I didn't find a problem with any of them. The yarn neither slipped or got caught. I also used it in making poms-poms and even they turned out nice and plush.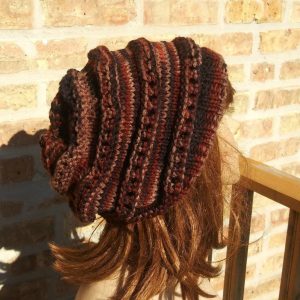 The Lace Slouchy made with Loops and Threads Impeccable Big Yarn Ombre Earth
100 acrylic. 557 yards in a 10.5oz skein Worsted Weight (4) Gauge 10 stitches and 24 rows to 4 inch swatch. Machine washable. Suggested needles: 8 knitting and H/8 crochet hook. Cost: $9.99
This was the yarn I decided to go to when Hobby Lobby discontinued the yarn I originally used for this hat. Honestly, I don't remember what that color was. I used this yarn and sales of the hat went through the roof.
Oddly enough, I can only find this particular color in the big ball at one of the three Michael's close to me. The color is available in the their regular sized skeins. Though the name is the same; the color seems slightly different to me. I have some skeins in my caged skeins somewhere but I haven't used it yet. Every once in a while, there is a great sale on it and I stock up since it is used to make my best selling hat (pictured.)
The generous ball makes about four hats and it can be really lush or a standard worsted weight feel. It depends on what batch you get. It always performs beautifully. It is not particularly soft but it is far from scratchy. I've used it on wood, bamboo and metal needles and it hasn't been slippery or stiff on any of them.
The stitches come out very even and they do the colors justice. It doesn't really pool. The color runs are not even so it doesn't stripe but they are not so long that colors pile up on themselves to cause pooling. That was an issue with the original yarn I used.
I don't wind my skeins into balls before I begin working, I just dig out the yarn barf in the middle and pull. I can't recall having any consistent problems with tangling or knots when it is clear the skein was short cut when it was being made.
Can't tell you how it behaved after it was blocked; because I didn't block it. Truth is, I rarely block unless it's an afghan.
The Big Ball comes in about 20 colors. I've never seen that many in any Michael's and not that many of the ombres. But you always have the internet.
I've used it to make scarves, cowls and hats. It would make a great beanie man knit.
---
The Calypso Shawl made with Red Heart Super Saver Ombre
Color: Cocoa
Weight 4, 10oz skeins
100% acrylic Hook:I Needles:8
Yardage 482
Gauge: 12sc, 15 rows and 17 stitches and 23 rows
Available in 21 colors Available in stores and online. $8.99
Red Heart Super Saver has a bad rep. In many ways, it has earned it by being scratchy and feeling like it doesn't cost much. But in recent years, Red Heart has upped their game in their signature yarn. I really like Red Heart Ombre. The color changes are a mixture of vintage and trendy.
Ombre is moving from one color tone to another but remaining in the same color. In the sample I used, the colors go from a cocoa brown as the darkest shade to a really light brown that's not quite tan. It also stripes instead of pools. The changes are gradual and gentle and a nice visual when they happen. You won't be jolted or surprised when they occur.
I've only crocheted with this yarn and while it does have an interesting feel to it, I love the way it works up. I didn't find any snares or knots and it doesn't have the roughness usually associated with Red Heart yarns. It works up very plush and I love the texture of the front and back posts. I was making the shawl in front of my brother who declared the yarn very pretty and wants a blanket make of it. That's not gonna happen but it's nice to have the testimonial for the review.
I actually don't think I would use this to make a blanket. You know how your yarn speaks to you? This has never said blanket to me. It does say, poncho, shawl, sweater. But it doesn't say hat or blanket. At 480+ yards, one skein will get you far though I used two for the shawl. I am thinking of making the Cold Shoulder Sweater with it. That's what this cocoa was going to be used for when the urge to make a shawl hit me. I do have enough of it in another color to still do it.
I guess that's a sign of a good yarn – wanting to use it again for another project.
---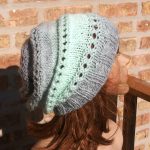 Lace Slouchy made with Lion Brand Scarfie
Color in photo: Silver/Mint
Yarn Weight 5 – Bulky
Crochet Gauge 11 sc and 14 rows for 4 inches with K hook
Knitting Gauge 14 stitches and 20 rows with 9 needles
312 yards
5 oz
78% acrylic, 22% wool
Machine washable on the hottest temps. Lay flat to dry
$9.99
I was in Seattle when Scarfie came out and stopped in JoAnn right before heading to the airport. I was there because I had to pick up a yarn for an order and I could work on it during the flight. I saw the yarn sitting in a bin and was so tempted to purchase it but like so many of us with huge yarn stashes, I don't like paying full price. I'm something of a bargain hunter. I will purchase yarn at full price when I have an order and even then I mutter to myself. Alas, the Scarfie stayed in Seattle.
But JoAnn is nothing if not generous with coupons so it wasn't long before this yarn found itself in my home and on my needles. I used it to make the Winter Warmer Hat from Willows Yarn. I made that hat a few times during the last season in several different colors.
I love the yarn. It knits up with some nice loft without being heavy. It is really soft without being scratchy, thanks to the blend of wool and acrylic. It's softly spun, so the stitch definition and texture really comes out. The wool gives it a halo. The acrylic holds it steady. It's soft to the touch so it feels nice to hold on to while working with it.
I have knit and crocheted with it and both are enjoyable. Sometimes I catch a knot but it doesn't annoy me and it's easy to work through the yarn barf when pulling from the center.
While there are two colors listed, it has three color changes. For example, it moves from the silver to a mix of the silver and mint and then goes to the mint back to the mix and then the silver. They have some new colors among the 21 colors they sell. I have to travel to the JoAnn superstore to get a good selection but you can order every color off the Lion Brand website or the JoAnn site where they have most of the colors and a coupon good for saving something.
It is a generous sized ball with more than 300 yards for a bulky weight yarn with wool so that probably justifies the price a bit. But, as stated, I'm a cheapo. I likes me the discounts. I have several skeins in my stash: a quick glance shows me the cream/teal and cream/mustard and I know there are others in the free range. I stocked when there was a sale and a coupon good for sale prices.
It's definitely a keeper.
---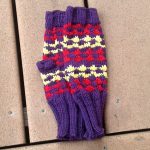 Dakota Fingerless Mitts made with Berroco Comfort DK
Ball weight: 1.75 oz, 178 yards
50% acrylic, 50% nylon
40 colors – 30 available on WEBS for $3.75
Machine wash inside out on gentle, tumble dry on low. Do not bleach
Knitting Gauge #1:
5.5 sts = 1″ on #6(US)
22 sts & 32 rows = 4″ (10cm)
Knitting Gauge #2:
6 sts = 1″ on #5(US)
24 sts & 34 rows = 4″ (10cm)
Needle Sizes:
#5(US)/3.75mm
#6(US)/4.25mm
Crochet Gauge:
5.5 scs = 1″
22 scs & 26 rows = 4″ (10cm)
Hook Size:
F-4(US)/4mm
I don't usually work with thinner yarn; I started with and stayed with worsted weight. I then realized I needed to add chunky yarn to my knitting and recently, I have come to the realization that I will need to do some work with 3 or DK weight. The gloves are the result of a client asking me to replicate a pair of gloves from War of the Worlds. I started making them in worsted weight and they were just going to be too big. The only real solution was to go down a weight.
To be honest, I chose Comfort DK because it was the only one that came in the colors I needed and I was fine with the price. Working with DK weight didn't turn out as badly as I thought. This yarn moved quickly and I used size 5 bamboo needles. Any tension came from me as I wondered if I could work with such a thin yarn and knit as quickly as I would like to. Happy to report that after a few minutes, I was knitting as normal though I had to pay more attention and couldn't look away like I can when working with worsted weight.
The stitch definition was a surprise because I didn't have work hard to see it. There were no knots or hitches and using the three colors in the color work design didn't cause me grief because the balls are so small, they didn't get in the way. Cabling might be interesting because I don't use a cable needle so I'm curious how that would work out. Not curious enough to try it out. I'll wait.
The feel of the gloves were fine. Didn't feel thready or thin. Kinda of a surprise with a yarn that's 50% nylon. I was worried they would come out more fashion than function but they had some warmth to them. Since fingerless mitts are designed to keep out a chill more than outside cold, these gloves have form, function and fashion.
In a previous review, I said thinking about using the yarn in another project was a sign it was worthwhile. I was working on the gloves and saw I would have a good amount of it left and thought about making a cap with the remnants. Now doing that is a distinct possibility as I believe DK weight is a good choice for making mens hats and it would give me an idea of how patient I would be without the pressure of having to complete an order.
Using it hasn't scared me off the idea of having more of it in my stash and indeed, I have some other DK weight yarns I am eager to try. With so many colors to choose from, it will be an easy choice to come back to.
---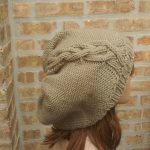 The Cable Slouchy made with Caron One Pound
Content: 100% acrylic
Ball Size: 454g / 16 oz, 742 meters / 812 yards
Care: Machine wash and dry
Gauge: 4 – Worsted
Knitting Gauge: 16 sts and 20 rows with a 5 mm (U.S. 8) knitting needle
Crochet Gauge: 12 sc and 13 rows with a 5 mm (U.S. H/8) crochet hook
37 shades $9.99 – $11.99 found in craft stores and online
I fell in love with this yarn way back when I began to knit seriously. It's a huge skein and I was able to make big afghans with just two of them. When I started making hats and scarves, this skein could be relied on to provide several items making it an economical choice for me and my customers.
It is my go to yarn for my hooded scarves and it can almost always be found in one of my afghans or blankets.
It is a heavy worsted weight yarn and the softness often depends on the color you get. It doesn't have the softness of I Love This Yarn but it comparable to Loops and Threads Impeccable. The variegated colors are softer than the solid ones. Because the yarn is heftier, the stitch definition is also a little heavy when knitting and more forgiving when crocheting. I find it easier crocheting than knitting with it.
A quick glance at the range and I can see black, ocean, pink, cranberry and dark gray mix. I know there are others roaming about. I have several of the variegated. Did a little stock up when JoAnn had one of her super sales.
Though it it no longer the first yarn I think of when designing or adding items to my inventory, it is still the top choice when I know I am making a wedding gift afghan. It is a lot of yardage for the money and that allows me to make a super duper handcrafted gift without spending a lot of money.
---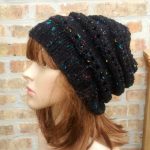 The Lace Slouchy made with I Love This Yarn
Contents: 100% Acrylic
Yarn Weight: 4 – Medium
Recommended Knitting Needles: 5mm (USA Size: 8 – UK Size: 6)
Knit Gauge: 18 stitches x 23 rows = 4″ x 4″
Recommended Crochet Hook: 5.5mm (USA Size: I-9 – UK Size: 5)
Crochet Gauge: 12 single crochet x 15 rows = 4″ x 4″
Skein Weight: 7 ounces
Skein Yardage: 250 Yards
Care Instructions:
Machine wash warm
Machine dry
Do not iron
Do not bleach
Dry cleanable in any solvent
Exclusive to Hobby Lobby 3 colors (Black is discontinued) $4.99
It's a shame they stopped producing the black tweed. I sold a fair number of items in that color. I have a few skeins of it left and there's no reason to save it because it can't be replaced. So I used it to make the slouchy and it came out great.
The yarn is made in Turkey, fast becoming the place for yarn manufacturing, and the place for soft yarns. I Love This Yarn doesn't disappoint in that area. The name is appropriate because that is the first thought when you feel it for the first time. You love that yarn because it is so soft and squishy. The stitch definition is more than fine and it has some loft. It works up smoothly and quickly on my bamboo, nickel plated or aluminum hooks or needles. I get equal enjoyment knitting or crocheting with it. It works well making hats, scarves, throws and it handles itself nicely as far as drape and form goes.
A quick glance around Knitsville and I see several skeins of the different types of I Love This Yarn. Besides the tweed, there is regular worsted weight and I have several skeins of ILTY print and ombres. Every other week, Hobby Lobby puts all the yarn on sale for 30% off and though I've never been in the store when they were having one of their clearances, they sell yarn for almost 80% off when they decide to move the stock from the shelves. I mainly get mail order because the nearest store isn't that near. Though, I just checked and there's one closer. Don't know why I never saw it. May have to take a trip over just to see if they have something on clearance that can go on the range with the rest of the skeins.
I do love, I Love This Yarn. It is the first yarn I look to when doing a project. It's now a little pricey as far as workhorse yarns go and HB isn't known for their coupon cavalcade but it's a very reliable yarn and with it is a generous skein – so maybe it's worth the price.
---