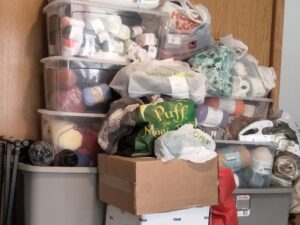 I wanted to buy yarn. My Covid test came back positive the other day and that threw me for a little bit of a loop. The only reason I took the test was because I had a procedure scheduled. Needless to say, the surgery was delayed because I was going to be in quarantine for five days.
I thought I should get myself some self pity yarn. I headed to this page. But then I turned my head and saw this. And it's not all in the photo. My year of yarning dangerously was already in serious trouble and we are still in January.
Does not bode well for the rest of the year. The yarn sat in my cart and it was on clearance and now it's sold out. I clearly don't need it and it was going to be a lame excuse to purchase yarn, anyway.
I work from home. Mr. Honey and I manage to stay out of each others' way even after the move. Even when we are now on the same level. I have very mild symptoms so, really, it's like any other day except I can't go anywhere. I wasn't going there to begin with. My quaratine is up tomorrow and the big plan is to go to the Post Office and pick up groceries. See, this is how urgent life gets for me.
I'm still in the midst of orders so I am not in the frame of mind of appreciating yarn as much as I just grab it and go. There are several packages I have yet to open. I did buy them to use for orders and I don't need to do that yet. I have a full design board so I will use them down the road. This is maybe 10% of my total stash. You see why I am in the year of not getting fiber unless I need it.