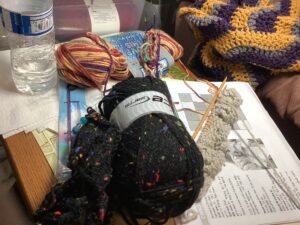 I have some things going on. Knit things and crochet things. Blanket things, hat things. Gift things and order things. Even a heartbreak. There are things going on.
So, in the lower right is the wedding afghan. Square no. 4. It's a little cable, a little lace and a little popcorn stitch. It's going to take a minute because there is a 24 row repeat. I was on row 14 when I messed it up and had to frog back to row 8. It'll take more than a minute.
In the upper right corner is the blanket for Lucas. I'm glad for the photo because it shows the purple. It doesn't look purple when I look at it and I'm also loving the gray. He's off to Loras College and their colors are Loras Gold, Loras Purple and Loras Gray. My colors are gold, purple and medium gray. Sentiment will make up the rest, I hope.
The lower left is another version of my Rasta Slouch – this is black tweed and the upper left is the beginning of a pair of fingerless mints that are part of an order. So, you see – busy.
Even though the wedding afghan and the Lucas Loras afgan will be given away, they will still be in the shop. They will be customizable for whatever color scheme someone needs: weddings, sororities, schools. For anything you wish, really.
There are deadlines on three of these projects so work is going on most of the time. These are the things I love to do. I am digging on the afghans. I will need until October to finish the wedding one. Good thing the wedding is the last week in October. I have about 3 months to get it done. The mittens and the long sleeves I need to knit have to be out in a few weeks and the Lucas blanket has to be done in another week or so.
I've been know to fall asleep knitting and can knit with my eyes closed. This skill might come in handy.