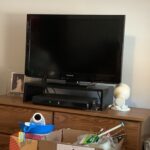 Sometimes you can't see the forest for the trees. But sometimes, looking at a tree doesn't let you appreciate the majesty of the entire forest. I think I can explain what I mean. See that? That is a dresser in my craft room. That dresser looks pretty neat. And it is. But it wasn't always. A few scant hours ago, it was cluttered and dusty. I decided to clean it and dust it as part of Lent.
We usually give up something for Lent like chocolate or coffee. But then, the day after Easter, we have chocolate and coffee. I don't have coffee; don't drink it. Haven't had chocolate in a minute, either. You get the point. We pause something; we don't actually give it up.
That makes Lent kind of a game. I wonder if God has that kind of humor. We certainly aren't fooling him. In the past, I didn't give anything up for Lent. Even if it was a game, it was one I didn't play. But this year, I want to be more mindful. So I gave up being cluttered and untidy. Not for me. But for Mr. Honey who likes neatness. I am working on a lot of things about myself for myself. This thing I am working on me for him. I didn't tell him because that would seem braggadocious. I'm just doing it. Starting with the dresser.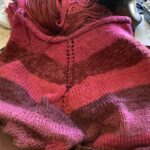 In knitting news, look what I'm working on. This is Robin's poncho and it's being worked with that big cake of yarn known as the Caron Anniversary Cake. Now, as far as I know, these are all out of stock and they don't have any new ones coming down the pike. But I have a couple of these to make this poncho because the client wants it big and squishy. There's 1000+ yards in these balls and I want to use all of it to make it.
I am enjoying it. I will write a review on it just in case it comes back. (hope it comes back with some great colors.) I have a ball – maybe two – of it somewhere in the free range stash.
This has spoiled me for chunky knits. I will turn to James C Brett and hope the Marble Chunky that I've been keeping for pets will suffice.