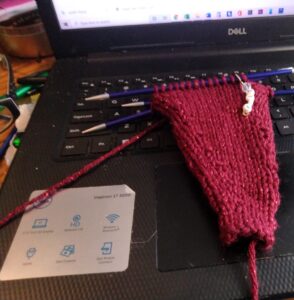 On hooks and needles: a new stocking cap. Just when I thought there was not going to be a 'break out' item selling over the holiday, one of the stocking caps pulled away from the pack. Learning the lesson of listening to what your customers are saying while your customers are not saying anything, I knew I had to expand the stocking cap field.
But I knew I didn't want just any stocking cap. I decided to do a sparkly one. This is Big Twist Twinkle in the color Mulberry. You can just make out the twinkly bits and it looks much better than the photo shows. The completed photo will be much better.
This will be the first product in my new GoImagine shop. Yes, I decided to give another platform a try and GoImagine says it is the 'Marketplace that cares.' You have to be US based and all of their profits go to social causes. Sounded good to me. I don't remember what it's like getting a shop off the ground but I am about to find out.
The hat is a little further along that what's in that photo and it will be ready in another session or two but it's not going in the shop until some of its siblings can join. I have many ideas on the spreadsheet and they will come to fruition when the time is right. I am almost done with orders. There are six to go and three of them are going to the same place. Designing and creating can kick into high gear once they're done. The idea is to make five items (including patterns) and then upload one item a day. Pinterest and Facebook are the social media latforms of choice because the data says that's where my customers live.
I think the stocking cap will be fun. Hopefull, you'll able to see it in the next post – or the one after that.