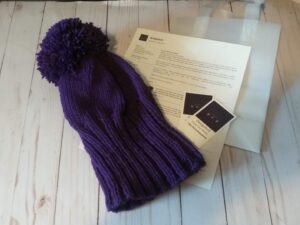 2020 be like, I ain't leaving no one untouched. For me, I lost a friend in an officer involved shooting and we lost our nephew in a bad motorcycle accident. I've written about that nephew. He leaves behind four young children.
There's far too much to say and nothing to say about both those events. You can share things and then leave them alone.
Knitting has been done. Someone wanted to purchase a warm weather hat and they wanted it in the incredibly beautiful color purple. Look at it. Lush, rich and soft. The hat is made from Red Heart with Love in aubergine.
I'm looking at this color, and I am thinking cables. I need to make something with cables. I love this yarn – I love it better than I love this yarn by Hobby Lobby. It doesn't have the color depths of ILTY and it costs $1 more but it has more yardage than ILTY and it is softer and fuller. Other than the two skeins I have, I don't think I have a lot of it in the stash and there's no reason for me to stock it. I have plenty of worsted weight solids but this is going on the list for the January yarn buy.
There are also some long stocking caps made and I think I have figured out how to take photos with my lightbox in the studio so I don't have to try and cart all this stuff outside and work on the side of the building.
I think every one will be happy to see this year in the rear view. 2021 has to be better. Right? 2020 be like a very hard year.