I Don't Get It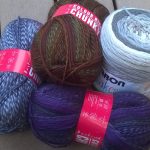 Let me say there are knitters and crocheters of all kinds here in Knitsville and they can create anything from the most fabulous sweaters to knitted boobs for cancer patients. It's all good work and there's lots to admire.
But for the love of all that's holy, what is this thing about socks?
I've knit one pair of socks because I heard knitting socks was so, so something and a knitter had to experience it to believe how magical it was.
I cast on, did all the work and when the sock was done, there was this sense of…what's all the fuss about? From what I read from other knitters, it was like discovering fire. For me it was discovering I could knit – which I already knew I knew. I figured maybe the euphoria didn't come because I only knit half a pair. Maybe it came with knitting the pair of socks. Knit the other one and when I was done, I was like 'wow, did it twice and came away with the same feeling but only twice as much.
I don't get it. Sock knitters seems to have a joy that escapes the rest of us and no other knitted thing brings that much acclaim from knitting brethren. People will ooh and ahh over an intricate sweater but let someone upload a photo of a striped sock and people think they invented color. I am always amazed.
The closest I think i am going to come to making another sock is knitting a Christmas stocking. That is on my futures knitting list. I will knit more than one but I won't knit a pair of them. I already feel a little excited about that. But for some reason, knitting the regular sock holds no joy.
Ah well, we don't judge in Knitsville. We accept, not merely tolerate, so if you don't think sock knitting is the greatest thing since sliced bread – well, you can still enjoy toast.