Goodness gracious, all my orders from the 2020 season are finished and off in the mail. That means 2021 is now calling. It's March first and that means I have about 6 months to catch up with this normal part of life.
When the season is over, I usually take a day off before I start to worry I will never get another sale again. That won't happen now because I already have a sale for March. So now, I have two days off before I start to worry.
Last year was good but this year has started even better for designbcb. Really nice sales for January/February. The thing is to make warm weather items, planner pages and patterns that will boost sales during the spring and summer months and get things ready for the fall. That six months will go fairly quickly.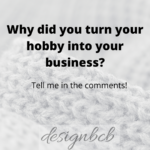 I asked this question on my Instagram page. I am not self-conscious at all about not having may followers anywhere except Pinterest. People have to start somewhere. But this is an important question to know the answer to if I am to ever get some readership and followers. I have to know why I decided to spend my finite time doing this as a way to sustain myself. I believe the question can be answered by stating a simple fact:
A bad day working for myself is better than a good day working for someone else.
That's what it all boils down to and even when I have more days behind me than ahead, I would rather spend them doing this. Taking something I feel passionate about and making it a passion to perform.
Have you turned your hobby into a business? How goes it?