As promised, here is a pic of the Lenny scarf in progress.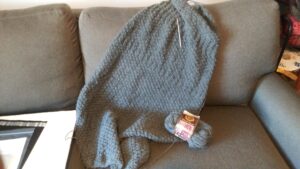 I will tell you, it's way larger than when that photo was taken. I am just about ready to add the fringe. It is already 8 feet long. That's 96 inches. Mr. Honey is 6 feet tall and when he draped it around his shoulders, it reached his mid thigh. That's what I was hoping for. I don't remember how tall Steve is but I don't recall him being taller than Joe. Lenny Kravitz is about 5'9 and the scarf, which is 108 stitches with the fringe, comes a little past mid thigh.
I am going to add a few more inches just to play it safe before I add the fringe. I did get some more of the Lion Brand Wool Ease and I was lucky enough to find it on doorbuster status. Picked up more and I am now on ball eight. The fringe is going to really long. I'm not sure one ball will be enough to make it. It's not very thick. Probably 2-3 strands each. The are more than 100 stitches across and I will probably skip every other stitch. Still a lot of fringe. I want there to be a lot but want it to be thicker than the photo. I think the fringe needs to have heft because the scarf does.
In the meantime, I have about 9 hats to make and I need to get on them, as promised, so they won't be late. This last foot of the scarf has taken all day. I will be up a few hours more to get it all done. You will see the finished object just as soon as I show it to the buyer. He should have first look; don't you think?