Hello there –
I know. It's hasn't even been a week and I'm back. That's because being on a regular schedule means getting through the calendar to do list faster and that means blog posts will be more frequent.
Getting back to this kind of normal has been a little disconcerting. I have knitting on the schedule and there will be days when it seems I will be knitting many hours of the day but for now, the sessions have been far and few between and I've been catching up on other things.
For instance, my workouts are back. I've worked out five times this week. I'm not sure I've worked out five times during January let along in a week.
I don't even have anything new to show you. I've been working on some new stuff. Oh, wait. I do have something: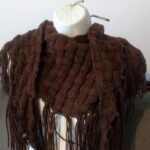 I finished the Basketweave Shawl. The pattern is done and up in designbcb.
I think I should add more fringe to it and that may yet happen though it is put away and I'm not selling the finished product – so it could all be more of an idea rather than something that actually happens.
I am working on a headband and I've tried it on different yarns that have yielded not the best results but I am back to cotton and I think it's going to stick. The problem is the first and last stitches are somewhat loose and it leaves a messy edge. I'm trying different techniques to get it cleaned up. Cotton is the preferred fiber because these are warm weather headbands. I'm sure if I take it to the YouTube, I will find a solution.
I also did some yarn shopping – which I have now stopped until August and I purchased some Zing crochet hooks – nice but a little disappointing and some Zing double points – looks promising but won't know until I make a hat. There will be things to show in the future. Right now, be impressed that I did two posts in the same month!