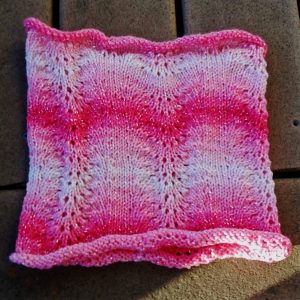 I really like the feather and fan stitch. So imagine my surprise when I discovered the stitch I was doing was not the feather and fan stitch.
I think of the feather and fan as a beautiful stitch, full of texture and a great look. When I saw the Ice Yarns Magic Glitz, I knew I would put the two of them together.
I have to say, I'm pleased with the result. I will have a lot to say about the yarn when I do the review. I can give you a heads up…I'm gonna like it. Putting the stitch into a round for a cowl was a nice little challenge and it ended up as an intermediate level pattern. It's available at designbcb. And at Ravelry.
This won't be the last time I use the stitch. I already have it in two other Glitz cowls and it is going into a hat and gloves.
So, what's the difference between shale and fan and feather? Fan and feather uses more stitches and is thicker. Almost everything is the same except it takes more stitches to do the fan and feather than shale stitch.
It will probably look the same to some people but you should be able to detect the difference upon a closer inspection. I do intend on using both together and an afghan is raising its hand to be selected.
Do you have a favorite stitch? I don't know that I have a favorite but there are some enjoyable stitches out there. With the knowledge I discovered, I now enjoy two where there once was one being called the wrong name.
I'd be interested in knowing your favorite stitches. Leave a comment below and I will check them out. I'm always on the lookout for a good stitch to create something beautiful.
.