I didn't know what I was going to show you in this post. I had to go to the Google because I thought 'I'll try something new' then had to see if I had actually done it.
There was this:
Lasagna. I haven't made lasagna in years and it was tasty. I've made it twice and the second was better than the first. This does take some time to prepare. The sauce is sooooo good. I did only a small variation. I don't like ricotta cheese so eliminated that. The recipe is here.
And then there was this: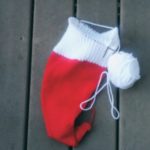 Doesn't look like it's finished but it is: except for the pom-pom. Couldn't put that on there because the pom-pom maker is at the condo. But as soon as I'm over there, this will a completed hat.
But wait…there's more: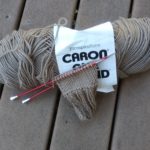 I started and finished a mask. Pattern was pretty simple and I even wrote it down on paper. I haven't lined it yet because the cotton and thread and needle are all at the condo. (We move a week from tomorrow.)
There's more. I finished the Shale Cowl in gray. There's a few thing sitting in my bag waiting to go over and hang out with the rest of the finished projects and they all need to have their photos taken. I will be over there tomorrow or the next day to get that done.
I made a pork roast using a new recipe. It was good but I cooked the pork too long. My dutch oven really gets things done fast. I will use a meat thermometer next time. All in all, a very good week.
I have a new hat on the needles made with Ice Yarns Tweeds in two colors. I've got a toy turtle or tortoise started. The week will be busy and there's no telling yet but the next post may be from new place! Now, that would be something new.