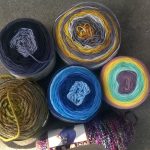 I need a hobby. I mean, for some folks knitting is a hobby but not for me. So, I am thinking I need something to do with my spare time. I do have spare time worked into my schedule. I have some free hours and that's usually spent playing June's Journey on my iPad. I'm thinking that's good for some of the time but there should be something for other times.
Reading. I used to love to read. That's something that can come back and I've chosen what it is I want to read. A long time back, I purchased a lifetime subscription to Simplify Magazine. I haven't looked at it for a minute and I recently logged in to start back. I also purchased a digital pack of Radiant Magazine – a digital magazine written with Nigerian women in mind.
In this renaissance of my life, I want to take care of myself in all areas. The physical is coming along and I want the spiritual and mental to come right along with it. I am going to need all that in order to make the physical work. There is a great big mental 'game' that comes with the procedure. For the team that supervises my care, there is not enough of it. The psych eval was realtively easy and it doesn't really prepare you for the mind explosion that happens.
What is helpful for me is a great support system. I am willing to do the work. The trick will be to sustain it. I have to begin making self care a part of the every day. I have showering as part of my schedule and for those times, it's more than just running under water; it's a time for taking time to make all of me better.
That also makes for better knitting. It makes everything better. Looking forward to enjoying this hobby.