I am having a love affair with discontinued yarns. With the last collection, I used three: Hayfield Colour Rich Chunky which is no longer available at all. But there are several other Hayfield Chunky yarns out there. Just none with the colorway this one had. I also used to Caron Big Cakes with discontinued colors. There are still Big Cakes but the colors I used are no longer. I still have some of each color but not enough to keep me from missing them. They are gone from me. Sigh.
I mean, look at that color. It's gorgeous even in a picture that doesn't do it justice.I have about 16 balls of Hayfield in various colors (I had to look up the orders, there's some I don't even remember) running around in the free range. I've seen a couple of this color called Strata and I've seen the brown one, which I don't recall the name of. Apparently, there are as many as five different colors running around. I am going to have a pleasant surprise one day when I run across them.
It took me a while to realize yarns were discontinued. It didn't occur to me until it happened after I opened my Etsy shop and there was a hat that very popular.I went to the store to pick up the yarn and it was no longer there and the clerk said it was discontinued. I had to scramble to come up with another color. Luckily, it was just as popular but I live in dread that one day, that color too, will go away.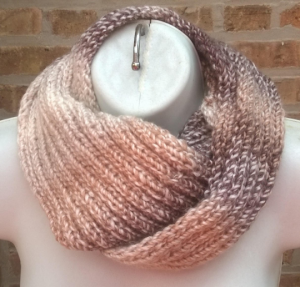 The closest yarn I have found to the Hayfield is Premier Puzzle yarn. It knits up very nicely as well and has a very nice color run. It's nice to the touch and will feel good against the skin. See? Isn't it pretty? But while I also have a few balls of this in different colors in the free range, it knows, as I know, it's a substitute. It's an unfair thing to know you are the replacement for discontinued yarns. It must cause stress.
The best solution is to love the one you're with because it can all come to an end. Not the healthiest way to run a relationship but one must protect the heart. And nothing breaks the heart than a yarn that is no longer available. But we must knit. So we must go on.