Almost There. The studio is coming along. My Fire tablet can't take a good picture or I don't know how to use the feature to take the best shots.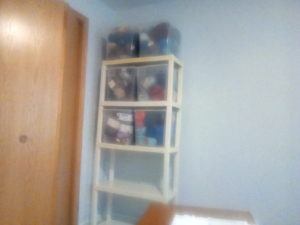 This is the etagere that will hold ten bins of yarn. Right now, it is sitting in the corner by the closet but after putting the table and chairs in place, it is going to move across the room and kitty corner to where it is now.
It is going to be a comfortable room. I enjoyed sitting in it yesterday. The sleeper sofa which may end up on the opposite wall, is 6 ft long. Mr. Honey thinks the wall itself is about 12 feet long but I'm thinking more like 9 or 10. I need to measure to make sure. In my mind's eye, the sofa is along that wall when you walk in the door looking at this wall here. Can't really picture it the other way.
The studio is not the only thing that's almost there. If you recall from the last post, I have 10 projects going. That is now down to 7. There are a few other finishes on the horizon. Just a couple more and there will be enough for the next Look Book. There's also a free pattern coming, too. Now that the country is on lock down or lock out, my life will not change at all. I will still knit, go over to the condo and work on the business side of life.
But I am of the vulnerable class and I did have a small case of flu last week. It is the first time I've been grateful for having the flu shot within the last year.
I'm gonna try and take better pics. I'll use the phone.Take care of yourselves and each other. See ya soon.