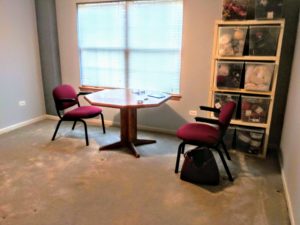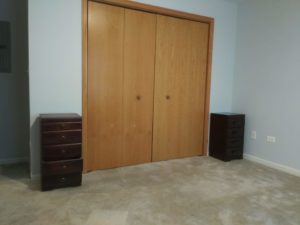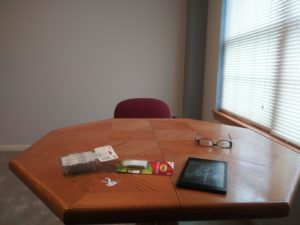 This is being done in baby steps. Though we do eventually have to move in, and Mr. Honey says we will be in sometime next month, we are still in the baby step phase. I have a feeling once the floor is in the living room, the timeline will be accelerated.
I moved the yarn from the other wall to where you see it. The closet is almost full with bins and bags but there is room for more and there is more coming. The two stands have functional drawers. I have two pieces of sculpture I imagine on each one. The room isn't as narrow as the photo makes it seem.
I also originally thought the sofa bed would go along the wall where the yarn is. I really need to measure to see how much space is there.
In knit news, I've completed several of the market bags. They're in the shop. Don't they look colorful? I don't know if the coronavirus thing is stopping folks from buying. I sold a couple of patterns. Guess being on quarantine gives you time to do some things. Shopping is one of those things. I've been to the store a few times and there have been people out. It's not as crowded as I've seen it.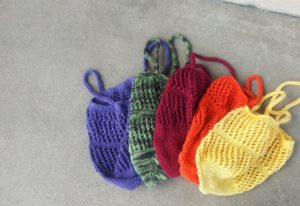 I'm also working on some cowls and hats. I think it will be fun to join working with the new space. But there is also sadness at leaving the house. I've lived in this house longer than I've lived anywhere.
The condo is our last place together. There's so much emotion tied up in all of this. Happiness will be at the end of all of it but getting to that point is not coming as easily as expected.
I need to take some living room photos. The flooring is probably coming in next week. This is a good time to get the flooring done. My brother-in-law will be over and he and Mr. Honey will be doing the work. I still have a cough so I will staying away from there while they are working for my sake as well as theirs. But I want to do a proper before and after so tomorrow will be that day. I would go now but it's snowing. Don't feel like going out in that. I'll get there. You know, baby steps.