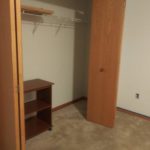 The closing is done and we are readying the condo for entry and readying the house for departure. And so it begins. The first room in condo to be tackled is my studio. The room, as the condo, was in pretty good shape when we got it. It's white and the carpet needs cleaning. I really want all the carpet removed and replaced with laminate but that won't happen. Carpet will remain the bedrooms and new flooring will be in the living room and hall spaces.
This is what three of the walls looked like after Mr. Honey started prepping the room for painting. I chose a really pale gray for the main color. A dark gray for the contrasting color – it will go on that pillar in the corner and around the inside edges of the window. The curtains are out. Blinds will be there instead. The trim will be a bright white. I am thinking of painting the doors white but haven't decided yet.
The room is 13×14 and that closet is twice as big as the closet in the house.
The design plan is to use our octagon table as the 'desk' over by the window. There will be a two cushion sleeper sofa against the wall by the door. The wall you don't see. On the wall adjacent to the window will be a stand or a bookcase where the television will be. The room will be used as a guest room when needed.
So, where will all the yarn go? The closet, though bigger, won't hold all the stash. I have placed some yarn in huge bins that will fit in the closet. i'll stuff the bags in there, too. I eliminated about 8 smaller bins. I have a white bookcase, which Mr. Honey insists on calling an etagere, it should be able to hold two of the bigger bins per shelf and there are five shelves. That will leave about 3 rogue bins. I really want a non-cluttered space.
I don't know how close the real thing will come to the idea in my head. The main thing will be to have a lighter, airier space than the one I have now.
The entire condo is getting a facelift with the paint scheme and new flooring. I'll keep you posted.