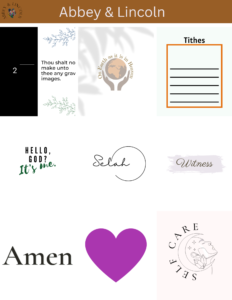 Who doesn't love a freebie? I know I do. Depending on what it is, of course. A freebie of, say, iguana food wouldn't interest me. But I know it would interest a friend of mine who has one – so I'd be interested enough to let her know about it. But this freebie is a sample sticker sheet of some current and future sticker packs!
Why use a digital sticker? Because it's a fun way to enhance the digital journal experience! When I started using my iPad to take notes, it wasn't long that I saw how using the digital stickers that came with them made the experience more fun and also more meaningful. It wasn't long after that, I decided to start designing them. Abbey & Lincoln is my shop for selling my digital products.
So why/how digital stickers?
If you journal, plan or scrapbook with a hardcopy, stickers are a big thing for you, too. I'm here for that – I have tons of notebooks. But what I love about doing it digitally – every notebook can come with me on my iPad. I can use one set of digital stickers on every notebook. Hardcopy stickers can be used once. One set of digital stickers will outlive me.
Using stickers in my journals, is a visual reminder that something interesting happened. I don't use stickers for every thing. I use them when I have an idea or a question, or for a reminder. When I skim through my notes later, I can see the sticker and that can trigger a memory or remind me of an action I need to take. I don't have to reread an entire entry.
I create my own style when I use stickers. Am I fun? Serious? A little bit of both? No one can use stickers and not feel a little creative. Which ones you use, how you use them and how often, speaks of your own personal style. For me, I like little spots of color and tranparent backgrounds. It's there; but not overpowering.
You can get this freebie in two formats: Here is the pdf version: print it onto sticker maker and make hardcopies if you like. (Just use them for personal use. No commercial use, please. Here is the png file. Upload this file to your digital journal and use the crop tool.