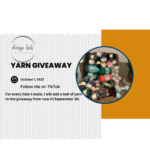 I'm doing a yarn giveaway! I've told you before, I have more than 1000 balls of yarn. There is no doubt I need to cull the herd. The best way to do that is a give away!
Here are the rules:
Follow me on TikTok now. The winnter will be drawn October 1 and then comment.
For every item I make between now and September 30, I will add a ball of yarn to the give away. I've already made 2 items.
My ultimate goal is to have all my yarn fit into the closet. It can hold about 30 containers – I have twice that amount. If this goes will, I will do it again at the end of they year.
There will be regular updates about the yarns so you know what to expect. What we have so far:
1 skein Feza Opera acrylic/wool blend Black Bulky
1 hank Knit Picks Bare Merino Wool Fingering Weight
The winner will be chosen by a comment picker. I hope to do it live so everyone can see. I was thinking of limiting to the 50 states but I think not. Open to everyone.
I was thrilled when I sorted myyarn and got it organized. I still am but now it is beginning to look junky even though I have kept it up and haven't moved it. It is difficult to realize there may be too much; especially since I am on yarn sites daily looking to see what is out there. To my credit, I am only purchasing things I have a need to purchase. They will be used shortly for items going on sale at designbcb/BoHo on Go Imagine.
So, if you want some yarn and you love a mystery box (well, you know what will be in it) head on over to TikTok and join the fun!