These are The Temptations. Classic. Iconic. Talented beyond measure and addictive. If one is a true music aficionado, one cannot resist the temptation. Some of their song define my knitting life quite accurately.
Ball of Confusion
I'll Try Something New
With These Hands
I mark long trips in the car with how many times I have to play the CD I have of their greatest hits. That's the one disc I can play over and over because it is my car jam.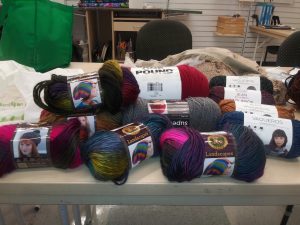 These are also temptations. Especially those four balls over to the right. Those are skeins of Lion Brand Jeans yarn. And I am in love. It has been quite some time since I had a yarn that I loved. I have an affinity for all things yarn but when one knits so much and does so for a job, then yarn can sometimes be nothing more than a means to an end.
I am surrounded by yarn – certainly more than I will use in the next few years. Note to self: set a challenge to use 100 balls of yarn in 100 days. It is the act of knitting itself that I am most in love with. Although, I won't knit with just anything, I learned on a ball of crochet thread. it is knitting that gets to me. The yarn is a partner.
But the first time I used the Jeans, I wanted to live in the stuff. I love the feel. I love the drape.I was tempted to stock up when Lion Brand was doing a 45% discount and again when JoAnn had it on sale plus a 20% off coupon. But I didn't. Because I have to discipline and control over having this nectar in my cup. My yarn blitz is in December and then it's on.Both the Jeans and the Jeans Colors will find themselves grazing with the other free range skeins in the yarn room. I have only used one of those four yarns pictured there. The others are on the range somewhere. I think I know where one of them is but can't say for sure. The others I will run across at some point in time. I am filled with anticipation at the thought. I won't go looking for them on purpose. That's part of the fun of being me. Avoiding the temptations is a way to enjoy the indulgence when I finally find it. After all, I Ain't Too Proud to Beg I'm just glad I don't have to.