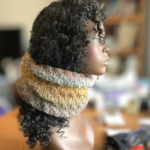 The Anidi Cowl is my latest creation! The physical product is available at designbcb and the pattern is ready to go as well.
The pattern in my head was going to be one way and the needles went another way and I just went with it. I love how it turned out and I love the yarn with it. The yarn is Jarbo Cookie from Hobii. I will do a yarn review on it but for right now, look at the color: that rich, neutral and look at the texture from the definition. This was a fun yarn to work with. And I have some of it left. I have two or three skeins of it; different colors. YEAH!
It was a very quick knit and the pattern is beginner friendly. You can start it in the morning and with some focus have it done that very day.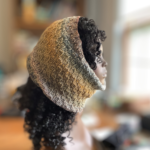 I am beginning to appreciate my own work in the practical sense. There is an urge to make another one of these to actually wear. I used one of my cowls last winter and it did what it was supposed to do and it also got some compliments. That's everything I want for my customers: a product that works well and looks good on them while doing it.