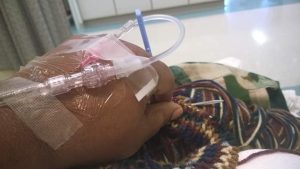 Yes, that is an IV in my hand. I'm this photo I am waiting for my doctor to come and tell me about the surgery I am about to have.
It is also January and I have orders to get out and it's also knitting, which I will do anywhere I can get away with it.
You can't tell me I have to sit in a hospital bed and have nothing to do but worry about the outcome of a surgical procedure. I believe knitting is an optimistic way to approach the situation.
If you look closely, it's clear I am at the beginning. So, I think by saying I will start this thing now, I am also saying I think I shall be around to finish it up.
I've been in situations where I don't have my knitting with me. Remember I don't knit in ballparks and it doesn't drive me nuts but that's about the only place. I haven't knit at weddings or funerals but I do have it with me. At my memorial service, knitting will be mandatory for those that knit or crochet. I have no doubt I will leave behind tons of yarn. Those that come can bring there needles and hooks and a bag to take some home.
I have knit between weddings and receptions because they have this new thing where weddings are in the morning and the party in the evening. I don't see why that time in between should go to waste. That is some prime knitting time.
I knit churcn. I know some folks have a problem with it so I make sure I sit in the back. At that point I figure if you have an issue then you're the one not paying attention. I feel God speaks to me during that time and I always put it down during the prayers and always hold it during the blessings.
It works for me. It's a scarier world when I can't get to my craft. You can't tell me I can't do it. That's a red flag. It's a stressor. It's not normal in my world.
The surgery went fine and the hat was sent off to the buyer. All is right in the world.