Yarn brings me peace of mind.
Knitting and cr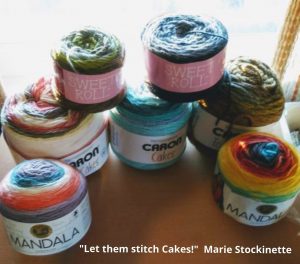 ochet are an important part of my life but yarn, on its own, is kinda important, too. I wouldn't have the stash if I didn't knit and crochet. But I have more yarn than I can use in a year…or three. But the yarn calms me.
Lest you think there is something off about thinking of knit, crochet and yarn as mental health advocates, read this article about the Healing Power of Yarn
Yarn surrounds me. My yarn room at the condo is much bigger than my yarn room at the house. But still yarn controls the space.
Certainly if I designed the room with the cute cubbies that are shown on YouTube and in blogs but there's no way I am actually going to keep my room that kind of neat and there's no way I am going to spend that much money. I have bins – lots of bins – there are 19 in the outer room. There's about 9 more and 16 bags in the closet.
There are some natural yarns but it's mostly acrylic. The point is that it is mine. Bought and owned. Unless I have a huge falling out with my knitting needles and hooks, this craft and the yarn can be relied on. I can create things and sell them. I can give them away. My day could be filled with creative activity. The craft provides much more than just something to do.
Boredom has not taken over and I don't suspect it will. The different yarns keep me interested just as the different projects do. Being surrounded by yarn creates an oasis and a place to run to. I connect with God and with myself. It hasn't been just a hobby for some time. Peace of mind is no small thing.