Just the other day I was lamenting about yarns that have been discontinued. I was saddened because it won't be available to me. It was a setup for a period of mourning. But then I saw this.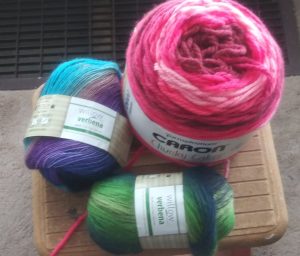 These are in my bag for the items in my new collection.
These are yarns I've never used before. This is a rough photo of them and they are gorgeous. The Verbena will become Basic Beanies and the Chunky Cake will be a cowl.
This isn't a matter of out of sight, out of mind. It's more of an acceptance of the things I cannot change. I won't be able to bring back discontinued colors or lines. It makes no sense to hold on to them so with each use, it will be bittersweet.
That being said, I must also confess to some fiber infidelity. The Caron Chunky Cake is in a color called Cherries Jubilee. I've been wanting to work with it for weeks and finally the chance came with this new collection. There is to be one of the field made with this yarn in the new collection. Just one. That's the plan.
I was up in the office where the caged and free range yarn live. I was sitting at the desk waiting for a software upgrade to finish when out of the corner of my eye I saw another chunky cake. This one was in Dolce de Leche. So beautiful. There was a crochet hook, a couple sizes too big, but still.
It was over in an hour. My fiber infidelity. But we have a beautiful cowl as a memory. I don't know how to break it to the cherries jubilee. Thinking I should keep it to myself for the moment. Maybe fess up when it notices the new cowl. There is another of the same cowl in the collection after this one. I could save it for that one. Out of sight, etc.
I would call myself a yarn harlot but, you know, that's already taken.