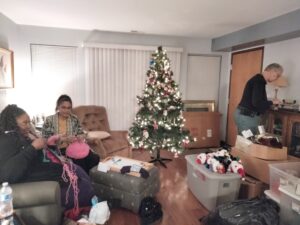 New beginnings. This is the time of year when we start to think of them. Let me tell you about New Year resolutions, if you think they need to start in the new year, chances are they won't be around on Valentine's Day. Just sayin..
See this merry group? This was at my house over the weekend. Had a few folks there for some knitting, crocheting and tree decorating. Laeh did most of the tree decorating. This is the first time she's decorated a Christmas tree. Laeh is Jewish. For the past few years, we've hosted Laeh, her brother and her sister-in-law for Christmas Eve dinner. This is the first time we've had the tree at new place. I brought back the tradition of decorating the tree on my birthday – or around my birthday.
This year, we combined it with starting the work for the Community Closet. I will have more to say on that when the rest of the deets are worked out. So Cat and Heavenly are working on items for that. Laeh worked on that as well. What you don't see if Robin knitting. She had to have a quickie knitting lesson and was making progress over at the dining table.
The grey bin to the right? That has some yarn donated by one of the knitting group's original members. She's no longer able to craft and her daughter gave us the yarn. We are usin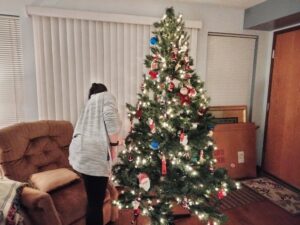 g that yarn to make the items. Cat is working on a hat, Heavenly a scarf. Laeh did a hat and I managed a hat and twisted headband. Fun for the entire family! We ate pizza, Mr. Honey baked a spice cake. We made a tentative date to go and do some glass blowing. And we are moving forward to give of ourselves to others. What could a better way to celebrate a birthday?