I might be obsessed with a new thing. I, of course, have this huge yarn obsession.Resistance to the yarn is futile. But I have also have hooks and needles.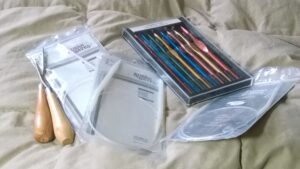 I have straight needles, circular needles, interchangeable and double pointed needles.Then there are acrylic, aluminum, nickle plated, bamboo and whatever Signature needles are made of. I have short crochet hooks, longer ones, bamboo, metal acrylic. Tunisian and afghan hooks, too.There's even a pair of Knook needles.
I have a Inoxal that I love and wish I could find more to sibling the one that I have. But no such luck there. So, I am going to going to give it an adoptive sibling. My favorite crochet hook. The one Mr. Honey gave me that belonged to his mother.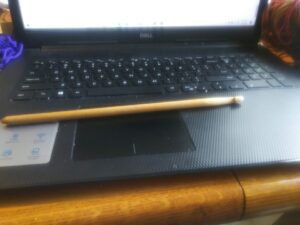 I do love this hook. And it's handmade. One of Mr. Honey's uncles was a master woodworker – what I call a whittler. He made beautiful stuff and we think he made this crochet hook for his sister. It looks to be a 9mm or about a L or M hook. I've used it and it works very well. There's some writing etched or burned onto the end of the hook and it looks like it says size and nothing after it. Making something like this would certainly have been in his uncle's wheelhouse. The man was great with woodwork.
I might be obsessed enough to ask my friend,Glen, to make me some hooks. He already made me the cross and flame emblem of the United Methodist Church. I'm thinking a set of hooks might not be such a bad thing to have.
No idea how much they would cost and if I would use them. There's no one in the next generation even interested in crochet. Still, it's something to think about.