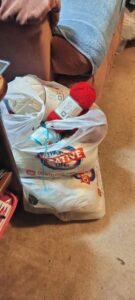 Maybe or maybe not. That's the answer. The question? Could this be two of the three bags of yarn I came home with from the Hobby Lobby clearance sale. Maybe, maybe not. OK, yes. Yes it is. But this was a yarn haul with a purpose.
When I heard they were doing their clearance a little early, I knew I wanted to get some cotton yarn to make spa cloths. There was a Spa cotton at Herrschners I wanted but when I went to order it, I discovered they don't have it yet. There was a manufacturer hold up. So it's in the catalog but they don't have it in stock and don't know if or when it will be. That meant I had to scramble.
Hobby Lobby has Yarn Bee Scrubology Cotton which looks a lot like the Village Scrub Spa that doesn't exist. I called the store to see if the clearance had started and the nice person said yes. So over I went. They had about 5 balls total on clearance. The other 4 they had were on sale but I didn't get those. They also had the Sugar and Cream Scrub off which is half the regular yarn and half the washcloth type stuff. They were on clearance. Loaded up on that.
The last time I was there, I looked at their Fireside yarn because I wanted to get back into making prayer shawls. Yes, I already have some..and some Homespun, too. But there were some pretty colors. I selected two colors then put one color back and doubled up on the other. Came back the next day and picked up the third color. Also picked up some bulky recycled yarn because it was screaming cowls at me. Spent about $50 all told and if I were sell one prayer shawl made with the yarn I bought, it pays for the entire haul. Not bad at all. And truly, it has a task already. The Go Imagine shop will feature the BoHo style. The Etsy shop will feature the wearables and Divine Nine and the patterns. Abbey and Lincoln will have the faith based digitals. It's all part of the plan.
This purchase will become spa sets, prayer shawls and something cushy. I did good. Now to get it in the storage bins.