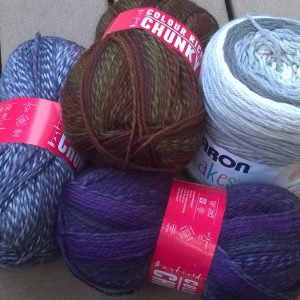 G
The last time we talked about the best yarn to use, we talked about the kind of fiber: wool, acrylic, blends. Some folks will swear off acrylics whiles others (like me) like it just fine. But another consideration of yarn choice is weight: Fine/Super fine, DK, Worsted, Bulky (chunky), Super Bulky. For a very basic chart of yarn weights, click here.
For the longest time, I used only worsted weight. I wasn't interested in a thicker yarn and I most definitely wasn't interested in thinner yarns. I told myself I could happily live in the land of the worsteds.
But an interesting thing happened. I would be sitting in the choir loft at church and I would have the urge to knit with Lion Brand Thick and Quick yarn using Lantern needles. I had no idea if it was the needles or the yarn that was the great push but it happened week after week and I finally gave in.
My husband got me a pair of the needles. I purchased the yarn and I knit it up. My life changed. I went from using just worsted to using bulky. I even went down to using some DK weight.
But that's where the rainbow ends. I do have some super bulky and I do have some lace weight and I will be happy to not use them again. Super bulky skeins aren't very big, so you need a lot of them. The lighter weights do not lend themselves to mistakes and everything takes longer.
These yarns do have champions: the bulky yarns create signature conversation pieces and the lighter weights produce beautiful shawls and gossimer scarves. I would need a new personality to want to make them.
Give different weights a try. Purchase one skein of something – should be good for a headband at least. If you like them, you can expand the stash and the experience. If not, organize a yarn exchange with some friends – someone is bound to like them and you can ger something better suited to you in return.